Battle on Bago Tournament
February 17 @ 6:00 am

-

2:00 pm

CST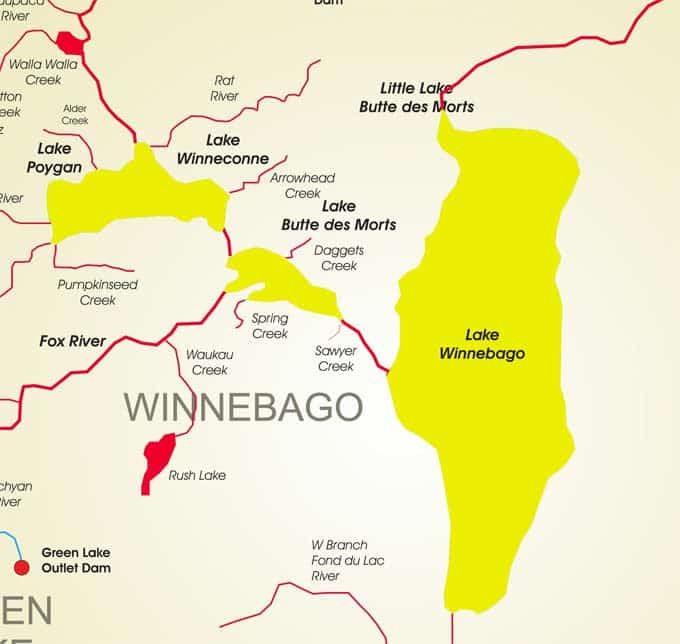 Committee shall reserve the right to refuse any contestant at the Committee's sole discretion.
 Tournament Rules are subject to change/modification without notice at the Committee's sole discretion.
 The Tournament is scheduled for February 17th starting at 6:00 am, Scales open 4pm-8pm Friday and after 8am Saturday.
Tournament ends at 2:00pm. Tournament ticket sales END at 6am Friday, Februrary 17th. You must be in line by 2:00 pm at Menominee Park in Oshkosh. Contestants will be allowed to fish Lake Winnebago and the Upper River Lakes which include the areas highlighted in Yellow (See Map Below) – Lake Poygan, Lake Winneconne, and Lake Butte des Morts. The areas in Red are considered out of bounds. Ice Fishing Permitted ONLY.
You can weigh 1 fish per fishing ticket of any of the following species:
* Walleye (minimum length 14-18" & 22" or longer)
* Panfish (perch, bluegills, crappies) (minimum length 8")
* Whitebass (minimum length 8").
Any other fish not listed here will not be eligible for registration. Fish may be taken with tip-ups or by rod and reel. There is no age requirement on tournament participation.
 Cash prizes will be determined by the weight of a single registered fish. In the case of a duplicate weight, the contestant weighing the fish at the earliest time will hold the top place for that weight. (example…lets say 2 fish were brought in and they both weighed 2.43 lbs and in this example it was for 24th and 25th place. The fish that was brought in first would hold 24th place and the fish that was weighed in second would take 25th place.) In the event of a tie, the first fish registered with the same weight takes priority. If there are no lines at any location by 2 p.m., the scales will be cut off. Contestants are responsible for verification of weight of fish at time of weigh-in. Any contestant has the right to dispute another contestant by 4:00 pm – All decisions by committee are final.
 Committee shall have the right to verify that fish were legally caught. Cash prize winners of $1,000 or over may be required to take polygraph exams as part of the contest requirements. In the event deception is detected his/her prize will be returned to the Battle On Bago organization and all other place winners will remain the same.
 All cash prizes will be mailed to the winner within seven (7) days of the tournament. ID and social security number may be required to claim cash prizes. Raffle prize winners not present will be contacted by a committee member within 2 days and the prize will need to be claimed within 30 days of the event. All unclaimed prizes will remain the property of Battle on Bago Foundation, Inc.
The entry fee for the tournament is $40.00 per ticket. NO refunds will be given for any reason. Tickets available online at www.fleetfarm.com or participating retail locations.
Contestants are responsible for their own safety, actions and property at all times. See boundary map below for restricted areas.
All laws of the State of Wisconsin will be abided by, any contestant over the age of 16 years old must hold a valid Wisconsin fishing license.
 Prizes are the responsibility of the winners, including taxes. Proper identification is necessary from all winners so the form 1099-MISC may be prepared and supplied to the winners.
 Failure to comply with any contest rules subjects contestants to disqualification and removal from the competition site, as determined by contest officials. Right to refuse to sell or revoke a competition ticket to anyone is hereby reserved.
 All contestants and other bystanders consent to the use of any photographs or likeness of themselves to be used in the promotion of our contest, including but not limited to print, radio, or television, websites, social media sites, etc.
Boundaries
Area highlighted in red is off limits for the tournament for safety precautions and any person fishing in this area will be automatically disqualified from the tournament.
As you can see by the highlighted area, Lake Winnebago, Lake Butte des Morts, Lake Winneconne, & Lake Poygan, are within the boundaries to fish in the tournament.
Related Tournaments