TOLEDO BEND ARMY RECREATION PARK MONTHLY BASS TOURNAMENT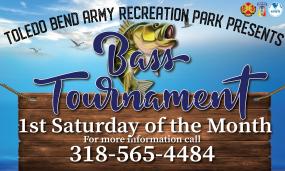 The Toledo Bend Army Recreation Park Monthly Bass Tournament is Saturday, October 1st!
Open to the public!
1st Saturday of every month!
Entry fee: $40 per boat; $5 per person for big bass
Leave at safe light; Weigh in @ 3:00 pm
Call 318-565-4484 for more information.
Related Tournaments